News
Fleurety - Inquietum - digi CD
Last updated: 3 July 2017
It subjugates and torments, such strange twisted realms.
Noisy psychotropic stupefication.....necessitous to free ourselves from each passing day.
Brooding menace permeates any breathable air....and a storm waits to break.
FLEURETY smash through the horizon - creators and masters of this restlessness........ Inquietum
Bringing together all tracks from the 7" vinyls released over eight debilitating years - these tormented Norwegians take us to the heart of darkness and conjure up a perfect storm.
Monads - IVIIV - digi CD
Last updated: 28 June 2017
I am proud to announce that AD will be releasing the new MONADS album later this year.
This is their first full album - and only recordings since the highly acclaimed "Intellectus Ludicat Veritatem" demo in 2011
Really amazing doom death - full of emotion, anguish and melancholy. One of my favourite albums, not just of 2017, but ever.
More information over the coming months........await !!!
Aesthetic Death upcoming releases...
Last updated: 24 June 2017
upcoming releases on Aesthetic Death include:
Dictator (UK) - Dysangelist - 2LP (at press)
Mekigah (AUS) - Autexousious - digi CD (at press)
Fleurety (NOR) - Inquietum - digi CD (at press)
Monads (BEL) - IVIIV - digi CD (late 2017)
Esoteric (UK) - Metamorphogenesis 2LP (early 2018)
Esoteric (UK) - The Pernicious Enigma - 2CD 2016 remix (tba)
Estrangement (AUS) - new CD (tba)
Mordor (SWI) - Csejthe / Odes - CD re-issue (tba)
MurkRat (AUS) - Drudging The Mire - 2LP (tba)
Endvra (UK) - Liber Leviathan - gatefold LP (tba)
Latest additions.....
Last updated: 24 June 2017
latest arrivals.....
- Tyrant Goatgoldrakona - Horns In The Dark - CD (death)
- Veer - 27 - CD (black)
- Age Of Agony - For The Forgotten - CD (black)
- Utumno (SWE) - Live in Sweden 1991 - 10" EP (death)
- Lik/Uncanny (SWE) - split - 7" (black)
- Revelation (USA) - Inner Harbor - LP (doom)
- Ogre (USA) - Soulless Woman - 7" (doom)
- Ogre (USA) - The Last Neanderthal - LP (doom)
- Second Grave - Antithesis - 10" EP - (doom)
- Heathendom (GRE) - Heathendom - LP (doom)
- Graveyard - The Sea Grave - digi CD (death)
- Graveyard - ...For Thine Is The Darkness - digi CD (death)
- Disastrous Murmur (AUT) - Marinate your Meat - CD (death)
- Dead (GER) - In The Bondage Of Vice - CD (Death grind)
- Nagaarum (HUN) - Homo Maleficus - CD (blackened)
- Decemberance (GRE) - Conceiving Hell - CD (doom)
- Tome Of The Unreplenished (CYP/UK) - Innerstanding - CD (astral black)
- Tome Of The Unreplenished (CYP/UK) - Cosmoprism: The Theurgy Act 1 - digi CD (blackened noise)
stuff for sale....
Last updated: 24 June 2017
Some second hand items - all in excellent condition (some unplayed).
Some tshirts and a couple of vinyls show more wear.
If anything interests or if you want more information/pics then drop me a line.
Behemoth – Satanist – digi CD – NB 3104 - £15
Adorior – Author of Incense – CD – AR 029 - £10
Toroidh – The Final Testament - CD – EPP 05- £7
Enthroned – Tetra Karcist – digi CD – NPR 214 - £5
Blackdeath – Satan – CD – DK 034 - £4
Deathgate Arckanum – Stillhallen – CD – AFP 001 - £7
Legions Of Iron & Steel – comp CD (Incantation, Tormentor, Windir + more) – AD001 - £7
Nastrond – From a Black Funeral Coffin – CD – LCF I - £8
The Stone – Zakan Velesa – CD – SOL 044 - £8
Veneficium – De Occulta Philosopha – CD – SP 012 - £6
Uncanny – Splenium for Nyktophobia – CD – USR 008 (2nd press) - £7
Metraton – Armies of Darkness Unite – digi CD – MS 009 - £10
1349 – Hellvetja – DVD – Candle 311 - £6

Impiety – Penang Abomination Tour 2011 – Thrashing Fist – DVD - £6
Rotting Christ – Passage to Arcturo – LP – FL 18 - £17
Impiety – Vengeance – LP- Hells 096 - £10
Impiety – Impious Crusade – LP – Hells 105 - £10
Devastator – The Summoning – pic LP – necro 25 - £8
Resistant Culture – Welcome To Reality – LP – Exist 109 - £8
System Shit / Human Error – split LP – (skud) - £5
Cryptic Slaughter – Speak Your Peace – LP – zorro 6 - £8 (worn edges of sleeve)
Totalitar – Vi Ar Eliten – LP – Communichaos Media - £15
Nausea – Extinction – LP – Exist 2 - £20 ('91 2nd press)
Masacre – Total Death – LP – MN 019 - £8
Matricide – Holy Virigin – CD - £3
Sadistic Grimness – Vicious Torture – CD - £4
Necrofeast – Soulwinds – CD £4
Crucifix – Threnody of the Crucifix – CD - £4
Veneficum – Dysphoria – CD - £3
Fall Ov Seraphim – Nex Jehovae – CD - £3
Fiend – Black Abhorrent Metal – CD - £3
Necroslut – Black Deceiver – CD - £4
Throne Of Chaos – Menace and Prayer – CD - £4
Raptor – Worship the Goat – CD - £3
Satanic Holocaust – Raw Black Metal Holocaust – CD - £4
Incriminated – Hypocricide – CD - £3
Vinterriket – Weisse Nachte – Short sleeve – size L – front print -
Vinterriket – Eiszweilicht – Hooded sweatshirt – size XL – sleeve, back and chest print - £20
Vinterriket – Gebirghoehenstille – Long sleeve – size XL – sleeve, back and front print
Sargeist – Satanic Black Devotion – size XL – short sleeve – front and back print
Watain – Black metal militia – size XL – short sleeve – front and back print
Lashblood - Unbeing - digi cd
Last updated: 21 February 2017
AD is very pleased to have the opportunity to work with excellent Russian avant-garde blackened metallers - LASHBLOOD
This is their second full album - and follows the well-received 2015 EP. The new album is titled "Unbeing" and delves into the darker elements and existentialist nature of the human psyche. The album takes inspiration from the classic novel from Bulgakov "Master and Margarita" - which features within the album concept and artwork.
Lashblood comprise some of the great protagonists of the extreme Russian underground scene - including acts such as Goatpsalm, Deathmoor, SS-18, Misanthropic Art etc.... Dark, extreme, experimental, avant-garde, progressive - this is an album I'm pleased to have the opportunity to co-release with the help of the band and SND Prod. Should be available during the first half of March 2017 - buy it direct from the band or through myself on the "releases" page.
Mourning Dawn
Last updated: 12 January 2017
from a band that just gets better and better over the years.......
French doom sickness.
Mourning Dawn EP at press
Last updated: 7 January 2017
artwork is prepared for the new EP from French dark doom cult - Mourning Dawn.
CD will be released towards the end of this month.
Fleurety - Fragmenta 7" - out 05/01/2017
Last updated: 4 January 2017
Finally released after endless delays - 5th January 2017 - the new Fleurety 7" - the fourth and final wax in the vinyl 7" series.
Blackened noise avant-chaos from the Norwegian maestros - the kind of insane creation you come to expect from this duo - and a fine and fitting end to the series.
Two tracks - over 12 mins - great Trine + Kim artwork - limited to 666 copies - what more can you ask for, buy NOW
Later in 2017 a comp CD from FLEURETY should appear - plus there is rumour that the band are currently completing work on a brand new studio album - their first full length since 2000
A truly amazing band since their demo in 1993 - pushing boundaries, redefining genres, not conforming to expectations nor caring for the herd mentality of the masses.
Support bands like Fleurety who create for the love of their art - and respect the physical format.
Ketch - Anthems of Dread is released...
Last updated: 31 December 2016
All doomed souls out there - this is indeed a day for doomful celebration, with the brand new Ketch cd now being released
The Anthems of Dread will take you on an excursion to blissful realms of sludge doom where few only ever dream of venturing.
Check this band out - highly recommended.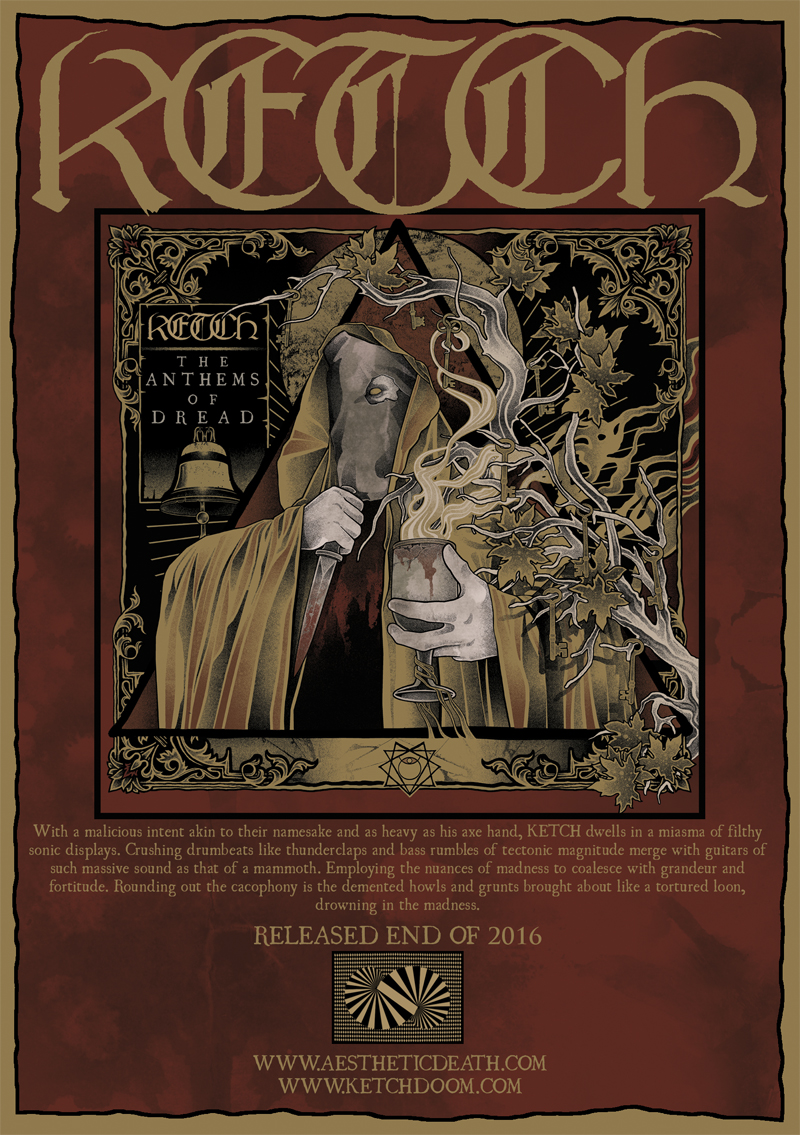 Ketch "Anthems of Dread" digi CD out soon...
Last updated: 14 November 2016
the much anticipated KETCH cd is released very soon - under production at present but
expected here before the year is out
one of the best sludge doom albums in recent years - expect something colossal.....
Section 37 - Auslander digi CD
Last updated: 14 November 2016
the great 3rd album - "Auslander" - from UK dark electro poet, Section 37 - is out next week
new album features a more polished eclectic dark electronica as the band evolve, mature and develop their sound. Still maintaining the grounded S37 principles of previous releases.
a joint release between AD and the band to push out a limited pressing of 300 copies
Mourning Dawn EP
Last updated: 14 November 2016
the new Mourning Dawn 2CD is going to press later this month
currently being mastered with Greg/Priory Recording Studios - alongside the artwork and layout being completed.
Expect an amazing and intriguing release - 2 individual lengthy tracks, which when overlaid together, form a whole new track.
75 minutes of Cerebral dark distrurbed doom....
Fleurety - Fragmenta 7"
Last updated: 14 November 2016
there have been a few issues with the sound quality for the upcoming Fleurety 7"
those awaiting copies - rest assured, we are working hard to iron out the problems and have this wax on the way to you as soon as possible.....
Mordor - Csejthe / Odes re-issue
Last updated: 20 September 2016
I am very proud to have the opportunity to be working with the legendary MORDOR, to work on the re-issue of their "Csejthe" + "Odes" releases.
Unavailable for many years now - and somewhat lost into underground obscurity. It is undeniable that Mordor were before their time in their musical vision, extremity and dark obscurity.
These albums from this Swiss act formed an important platform in my understanding, admiration and respect for extreme music - along with their further explorations with Gora, The Way Of Nihilism etc.... Setting standards and opening genres within extreme doom and noise that have been pursued and elaborated further ever since.
These re-issues have already encountered numerous delays and problems in obtaining suitable audio - but both myself and Mordor are totally committed to this release happening and a worthy re-issue happening..... whenever that might be. Look out for more details.
Pernicious Enigma - 20 years on.......
Last updated: 3 August 2016
I'm not sure where it has gone - but it is now 20 years since the recordings for Esoteric's "Pernicious Enigma" 2CD.....
This is an amazing and groundbreaking album - well ahead of its time and never surpassed. Not just for me, but seemingly for other people out there.
To mark this 20 year anniversary - the awesome guys at www.doom-metal.com have done a super feature on the album - which includes a review of the recently remixed version, a chat with Greg (Esoteric) regarding the making of the album, and even a chat with myself on releasing the album:
http://www.doom-metal.com/reviews.php?album=2977 - review
http://www.doom-metal.com/interviews.php?entry=1379 - Esoteric
http://www.doom-metal.com/interviews.php?entry=1380 - Aesthetic Death
If you have any interest in this album then please check out the above links - it brings all those difficult, but amazing, times flooding back.........
ThrOes CD is out
Last updated: 11 July 2016
Proud to announce the ThrOes digi cd has been released - and it does indeed look and sound awesome.
Prepare to immerse yourself in dissident realms.
Check for info/news//clips on facebook via ThrOesofficial - and news from the chief protagonist on future material.
All orders are shipped - expect them soon.
Fleurety 7" imminent
Last updated: 11 July 2016
After the usual lengthy and unexpected delays - the latest of the Fleurety 7" vinyls is currently at press. Ready to ship early August.
Entitled "Fragmenta Cuinsvis Aetatis Contemporaneae" - this features some blindingly brilliant Fleurety chaos. Two dark instrumental tracks that will not fail to impress those who appreciate the obscure creations of these Norwegian innovators.
Ketch will be joining AD
Last updated: 11 July 2016
Excellent US doom act KETCH will be working with AD on the release of their latest album "The Anthems Of Dread" for release later this year.
Those of you familiar with their previous work will know to expect something special!!
More news to follow.
Haiku Funeral - Hallucinations digi CD
Last updated: 17 May 2016
Out now:
the excellent HAIKU FUNERAL album, entitled "Hallucinations" for a very good reason - dark visitations from syncopated, hypnotic, lysergic and erotic rites - musick and magick are intertwined and explored.
This band defy convention and are unique - few bands in this day and age can truly say they have a style all of their own.
Welcome to the hallucinogenic world of Haiku Funeral. Released on digi cd.
Goatpsalm CD review
Last updated: 4 May 2016
check out another excellent review for the Goatpsalm cd
Esoteric - Pernicious Enigma 3LP - out and shipping
Last updated: 4 May 2016
Esoteric "Pernicious Enigma" 3LPs are here - looking good - and have started shipping.
Anyone who has already ordered can expect their copies imminently.
Aesthetic Death on facebook
Last updated: 16 April 2016
It has come to pass......and Aesthetic Death has a facebook presence.
Whilst I won't currently be engaging and messaging on fb personally - due to my technological ignorance and unwillingness to learn quickly.
However, if you "like" AD on facebook, you will receive some regular news and info on upcoming releases.
Check out: www.facebook.com/aestheticdeath.uk
Thanks all for the continued support - that goes especially to Trent + Kristy.
Esoteric - Pernicious Enigma 3LP is released
Last updated: 31 March 2016
OUT NOW - this is ready to pre-order now. Ships next week!!!
"Pernicious Enigma" is a very important album to me - this is a release that has taken 19 years to materialise.
Released on tri-gatefold, heavy duty reverse card and 180g black vinyl.
totally re-mixed and re-mastered by Greg - to create the sound that the band originally had as their vision.
Great vinyl layout which is loyal to the original release. Vinyl mastering overseen by ourselves to ensure sound quality.
This will stand as one of the proudest moments for Aesthetic Death
ThrOes album cover
Last updated: 31 March 2016
ThrOes album artwork in the making.....
ThrOes - Dissident Metal
Last updated: 17 March 2016
IMPORTANT NEWS:
I am very proud and honoured to have the opportunity to work with awesome Australian act - ThrOes
AD will release the stunning debut album "This Viper Womb" in June 2016.
Expect something unique and exceptional - a very exciting release. More info soon.
In the meantime, check out:
https://www.youtube.com/watch?v=PdeNsFRw80g
ThrOes is Dissident Metal from Tasmania. It is the brain child of Trent Griggs. ThrOes began life in December 2003. 13 long bleak years ensued that saw Griggs eternally at war with the energy involved in creating the material. He worked in solitude during this period. Great patience and execution of will was necessary to let the material evolve organically, and independently of any outside stylistic influence or trend. Every imaginable mental, physical and financial obstacle had to be overcome. In 2016 the long awaited full length debut album "This Viper Womb" will finally be released via Aesthetic Death.
Featuring: Trent Griggs, James Ludbrook (Damaged), Kevin Talley (Suffocation), Mark Evans (Alarum), and David Caswell (WDD).
This is not like any metal album you have heard before. This album will ruthlessly infect all utterly. This is Dissident Metal!
Goatpsalm - Downstream CD
Last updated: 17 March 2016
A petroglyphic tale painted upon grey rocks, which are devoted to the land of everlasting frost.
Follow it downstream through the breath of polar nights, the baying despair of animals, an eternal apthy towards the rotation of life and those dredful legends told by old men.
Almost an hour, deeply submerged within a fusion of doom metal, drone ambient and ethnic music of the Far North of Russia.
Out now - receiving deserved acclaim for a stunning diverse and dark creation. Goatpsalm continue their partnership with AD, to release this their third album.
Never standing still, they continue to explore their minds and their heritage through musical creation. Never for the narrow-minded.
Carma cd
Last updated: 5 December 2015
Out now - the debut cd from Portugese atmospheric blackened funeral doom act - CARMA
Following successful gig in Portugal last week - the new album is released. Last few copies remaining - act quickly.
Co-release along with the excellent underground labels - Altare Prod (Por) + Dying Sun (Hol)
Of Spire & Throne - Sanctum In The Light CD
Last updated: 7 October 2015
out now - the punishing new album from excellent UK doom act -
OF SPIRE & THRONE - Sanctum In The Light
Released as a digi CD on 6th October 2015
Atmospheric, discordant and bludgeoning extreme doom, centred on themes of vision, mad ess and self-destruction.
Heavy rhythmic doom interwined with deathly sludge - this release co-incides with the recent UK tour with Faal
Check this doom behemoth out!!
Whelm - A Gaze Blank... CD
Last updated: 14 August 2015
Now out....... the WHELM CD - "A Gaze Blank and Pitiless as the Sun."
I'm very proud to have released the Whelm album - their only ever full length. Captivating, accomplished dark doom - perfect!
Sounds great and perfectly complimented by an awesome cover art and layout. Check it out!!!
Anyone waiting on a copy - they are leaving here already.
NEW webstore - check it out.....
Last updated: 16 May 2015
After plenty of work, the AD webstore has now been updated. It is now possible to.....
- search for releases by genre or format;
- use a postage calculator which gives actual postage cost to your region - so multiple cds often cost the same as just one!
- very cheap prices - nearly all CDs £5 or less;
- easy payment via paypal;
- many hundreds of new titles to add over the comng weeks;
Please take some time to check it out. Support the underground!!
Opening offer - Buy 5 CDs or LPs - and get one free
Esoteric - The Pernicious Enigma 3LP
Last updated: 13 May 2015
Work is progressing well with the next Esoteric vinyl.....Pernicious Enigma 3LP.
Greg has recently been re-mixing and re-mastering the album - having never been 100% satisfied with the original mix back in 1997. So, fans of the album will notice a considerable difference with the original mix.
The artwork is looking fantastic - and, as usual, you can expect a heavy duty, beautiful triple gatefold release - with a deep warm killer sound.
This is one of my favourite albums ever - and I will ensure it gets the release it deserves!!!
More news in the coming weeks.......
Mekigah - Litost - new CD
Last updated: 11 May 2015
OUT NOW - the 3rd album from awesome Australian dark doom noise act - MEKIGAH
MEKIGAH is a long term friend of AD - and being inspired by the creations, I'm proud to now have the opportunity to put out this album.
Creating a dark, difficult and schizophrenic tapestry of audial textures - weaving between doom to ambient noise, with a subtle under-layer of rhythmical dissidence. Never knowing where the music will take you, this is a rich and rewarding album. Recent reviews have made comparison to the likes of Gnaw Their Tongues.
Check out this clip of "The Sole Dwelling" - http://youtu.be/yb-CSeQjcdg
If you're not familiar with MEKIGAH then check out the doom-metal.com interview:
Walk Through Fire - Hope is Misery 2LP
Last updated: 24 August 2014
punishing, sparse, brutal sludge - the excellent latest WALK THROUGH FIRE album is now available on a beautiful vinyl release.
Awesome gatefold heavy vinyl - with a sublime layout and artwork on vinyl.
Pressed by the band themselves and released on 25/8/2014. Limted to 300 copies - available to order now - £20 (UK) / £23 (Europe) / £25 (worldwide) - postpaid
Illaetabilis Art
Last updated: 19 April 2014
check out a new AD logo - designed especially by Meriel Longmore at Illaetabilis Art. Check out her awesome work.
WALK THROUGH FIRE - Hope Is Misery
Last updated: 22 March 2014
The new album from Swedish sludge doom act - WALK THROUGH FIRE - is now available. Any pre-orders have been sent ready for the release date on 27th March 2014.
If you're close by, then head to Gothenburg on 27th March for the release gig, along with Trepaneringsritualen
this latest punishment is titled "Hope Is Misery" - the title track is available to listen to now on the "releases" section of this site.
Uncompromising, painful and difficult sludge doom - this new album firms up Walk Through Fire as one of the best doom acts around!!
Split label release in conjunction with the excellent German label - Wolves And Vibrancy Records
Esoteric - The Maniacal Vale 3LP
Last updated: 5 February 2014
the Maniacal Vale 3LP has arrived.......looking and sounding great......
the vinyl is now available to buy direct through the website - although only the Worldwide postage rate is shown.
The 3LP costs just £22 but the postal costs are:
- UK = £7 - Europe = £10 - worldwide = £15
- paypal to: stu@aestheticdeath.com
If you are ordering from the UK and Europe then please send paypal directly to save you the postal costs specific to your region.
All pre-orders have already been shipped.
AD store
Last updated: 23 October 2013
the AD web-shop now contains most items that are available in stock - more rarities and 2nd hand will be added over coming weeks.
All prices include international postage anywhere in the world - so there are no extra costs. But, if you want to order more than one CD or LP, then I can give BIG discounts, especially if you live in the UK or Europe, just contact me for more details.
Any order over £20 comes with a free AD cd release of your choice.
the web-shop will be made more "user-friendly" over the coming weeks - adding more categories to make it easier to look for bands/styles that interest you, and postage calculators etc...
The underground label and physical albums become more obsolete in these years of technological "advancement" - so, thanks for the support!
ESOTERIC - Maniacal Vale 3LP
Last updated: 27 September 2013
A lot has happened with the vinyl version of Esoteric's superb album 'The Maniacal Vale'.
More than 16 months since the original submission of the album to press - we are finally at a stage where the album should be ready soon. There have been many problems and delays with getting Esoteric's immense sound on this album being transposed suitably to vinyl. We have now done the vinyl mastering ourselves to get a top-notch sound - and teamed up with a pressing plant who understand what the release should sound like - and a team who appreciate that vinyl should sound perfect!!
After all the problems we have encountered over the years, I no longer care to give release dates - but I am very sure that this 3LP album will be released before the end of 2013.
We are really pleased with the sound on the vinyl and you can expect a vinyl that you will be proud to have in your collection!!
Watch this space for news once it is available to buy.
THE NIHILISTIC FRONT unleashed....
Last updated: 15 July 2013
Out now is the 4th album from Aussie extreme death doom act THE NIHILISTIC FRONT
Looking and sounding awesome and brutal - expect some punishing extreme death doom in the vein of early Incantation meets Disembowelment
anyone awaiting copies can expect them shortly....
Fleurety - Et Spiritus 7" now out....
Last updated: 14 July 2013
Now released is the 3rd vinyl in the FLEURETY 7" series - looks great, with fantastic Trine & Kim artwork. On heavy duty vinyl, supplemented with inner lyric sleeve and sticker.
Anyone awaiting copies can expect them to leave this week.
EIBON - II cd digi
Last updated: 26 June 2013
the EIBON - ii CD is now released.
looking awesome in an LP style hardboard digi sleeve, with an inner sleeve housing the CD. Limited to 1100 copies. Some pics to follow.
all pre-orders are already on their way. Enjoy the dark twisted doom..........
Section 37 - Legion
Last updated: 26 June 2013
Now released is the new album from UK dark electro act - SECTION 37
available to buy directly from this website for £5 postpaid
Folkodia new 2013 album
Last updated: 28 May 2013
the new FOLKODIA album - "The Fall Of The Magog" - is availble to order via this website (find it in the shop, where you can buy directly with paypal)
brand new album from this great international act - just released
Eibon - II cd/lp
Last updated: 25 April 2013
the new EIBON cd/lp is imminent......
an awesome display of progressive dark doom - in the true Eibon sound - this release was recorded live and charts the progress of the band through turbulent times. the old sentiment of "what doesn't kill you, makes you stronger" - couldn't be more appropriate.
recording this material live gave the material a very organic and fluid feel - deep and considered compositions ensure these two tracks keep the listener on edge throughout....
the LP version available the first week of May (released via AD and Throatruiner) - whilst the CD version comes in mid May solely released here at AD. Both versions available to pre-order now.
Don't miss this!
Fleurety - Et Spiritus 7"
Last updated: 25 April 2013
the 3rd wax in the Fleurety 7" series is finally on its way.
being pressed at this moment - we expect the vinyls back about mid-May. Pre-orders taken now on the site.
two brand new Fleurety tracks - expect the obscure and unexpected - avant-necro-blackened-metal, as only Fleurety can do!!
Section 37 - Legion CD
Last updated: 25 April 2013
the new SECTION 37 cd "Legion" wil be release date the start of May
the sick older brother of "Kudos" - more obscure eclectic electro to be expected
orders now being taken - at a price this low got to be worth a punt
Folkearth / Folkodia
Last updated: 25 April 2013
I'm pleased to be working alongside "international supergroup" - Folkearth - to have some of their great folk-viking-metal inspired albums available.
Not easily available everywhere - these albums can now be bought direct through the AD website. Making it easy to use paypal to buy these albums. Each album includes postage costs anywhere in the world - if you wish to buy multiple albums then get in touch for a postage discount. International registered delivery for any parcel is available for an extra cost of UK£4.
Albums currently available at the AD shop include - A Nordic Poem / By The Sword Of My Father / Drakkars In The Mist / Father Of Victory / Song Of Yore (Acoustic) / Fatherland / Rulers Of The Sea / Viking's Anthem / Sons Of The North / Minstrels By The River / Valhalla Ascendant / Odes From The Past / In A Time Of Legends / Battlecry / Forgotten Lore / Battles And Myths
Eibon - ii cd/lp
Last updated: 13 April 2013
the excellent new EIBON release will be available in the coming weeks on both cd and vinyl.
You can stream a track directly on this website.
Anyone interested in a download of the tracks can check out this link:
email address change
Last updated: 20 March 2013
Due to a recent house move I have had to change my email address - this address is no longer valid - aesthetic.death@virgin.net
Please use this address now - stu@aestheticdeath.com
My new snail mail address for parcels and promo stuff can be found on the contacts page of this site.
I will have very limited internet access between 25th March and April 4th - please bear with me if I am slower than normal!
Thanks.
Eibon - stunning new CD
Last updated: 4 December 2012
AD is extremely pleased to bring to you news of a forthcoming release from EIBON.
New tracks of dark progressive blackened doom - which are sounding awesome. Showcasing EIBON as the finest innovators of extreme doom today.
More details to follow soon - but here is the album cover artwork to start with.
Should be released in the first quarter of 2013 - alongside the brutal new cd from THE NIHILISTIC FRONT
Haiku Funeral new CD
Last updated: 2 November 2012
The 3rd CD from French dark electro act Haiku Funeral is released on 31st October 2012 - entitled "Nightmare Painting"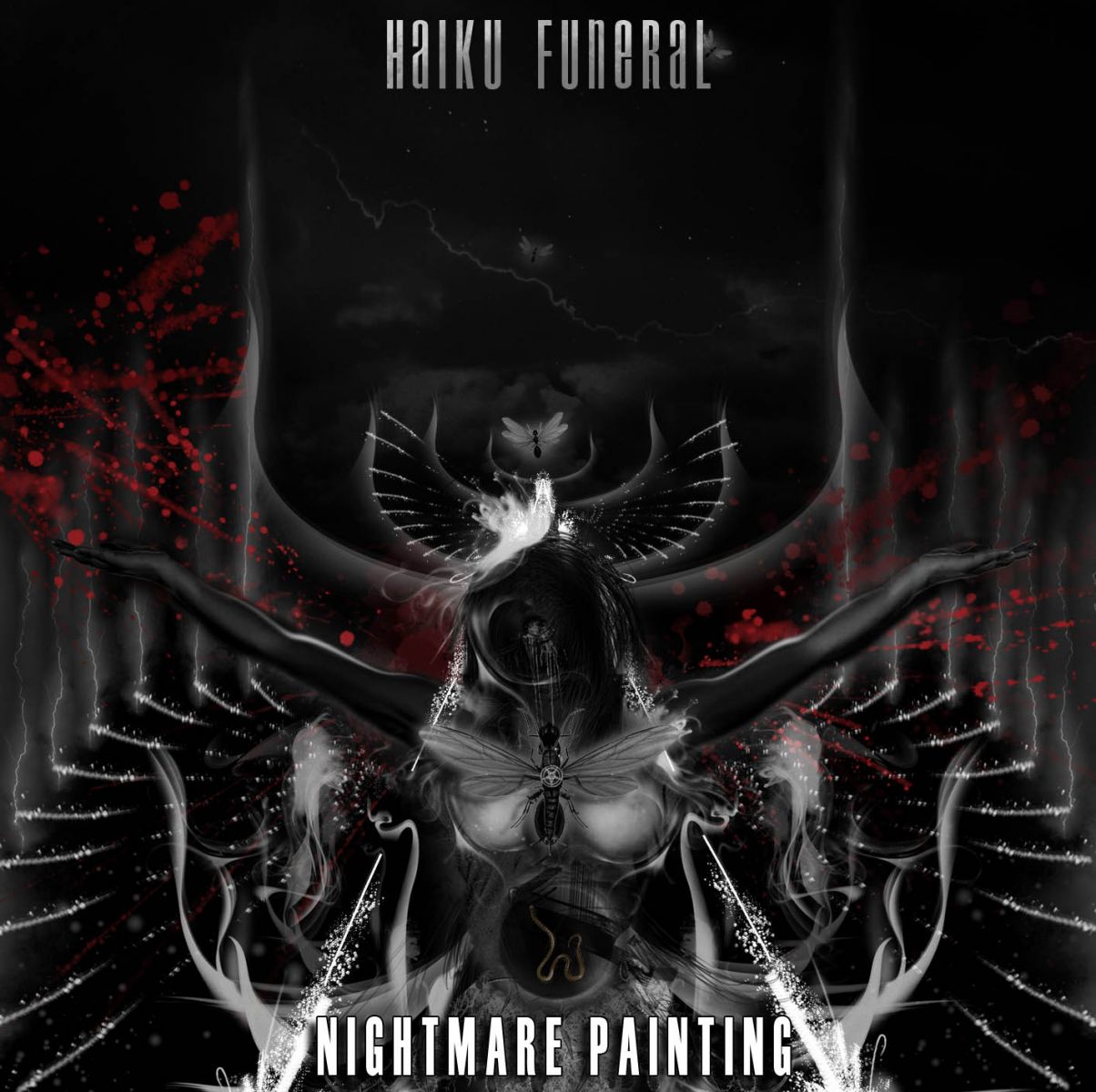 ...
Available now through the "releases" section of this website.
Deep, dark, seductively evil...and infectiously, wickedly groovy, HAIKU FUNERAL generate an atmosphere of black, bleak, ironic paradox. Cold industrial ambience meets darkwave experimentation, liberally seasoned with death/doom and driven by the twin engines of pulsing, trippy, virtuoso bass and hoarse, snarling, savagely crazed voice.
Building on the foundations of sonic terror laid down in "Assassination In The Hashish Cathedral" + "If God Is A Drug" - "Nightmare Painting" retains the same horrifying imagery of death, madness and godless depravity while developing the musical themes to new levels of maturity...and subversiveness. Whilst the listener is drawn in like a moth to a flame, by the appealing rhythms and textures of post-everything avant-garde, the darkest of messages is being whispered direct to their cortex.
It's already too late to wake up: the nightmare is there, under your skin and echoing somewhere in the morbid depths of your soul. Such tender murder, indeed.
a diverse album, a jazz-funk/blackened metal hybrid with ambient experimentation....
(thanks to Mike for the help!)
Haiku Funeral - Nightmare Painting video preview
Last updated: 18 October 2012
AD is moving
Last updated: 25 August 2012
Over the next days and weeks I will be moving AD into another doom drenched dwelling.
There may be periods of time where I am slower than usual - please bear with me.
Ortega CD released
Last updated: 25 August 2012
Very pleased to inform that the CD re-issue of the excellent "1634" album from Dutch sludge post-doom act ORTEGA is now out
a beautiful album which is now given a full release - and comes with new artwork and layout .
Highly recommended.
Esoteric - Subconscious Dissolution 2LP
Last updated: 29 April 2012
The latest Esoteric vinyl is now released - Subconscious Dissolution Into The Continuum 2LP
All pre-orders leave here this week so should be with you soon - any problems or queries just drop me a line.
Less than 100 copies remaining for sale - so will be available for a few weeks to come.
Prices are: £24 (UK), £27 (Europe), £30 (worldwide) - inclusive of postage
Walk Through Fire CD
Last updated: 21 April 2012
the Walk Through Fire cd is now sold out
it is still available direct from the band - go direct to their website for ordering details
if you have any problems getting a copy, just give me a shout
Ortega - 1634 CD
Last updated: 20 April 2012
Dutch sludge/post-doom outfit Ortega will be working with Aesthetic Death to re-issue their excellent "1634" material....
Originally self-released to a limited number of 100 copies - this re-issue will give people who never got their hands on the original version to listen to this awesome piece of work.
Section 37 latest....
Last updated: 5 April 2012
After an 8 year hibernation, Section 37 are resurrected. Brainchild Stuart J Harris has teamed up with John Frost to begin work on the forthcoming album "Legion".
The sound is tighter, darker and sicker.....be prepared for an eclectic display of psychotic evil!
Mourning Dawn + Goatpsalm
Last updated: 24 February 2012
Finally released this week are the two new AD releases....
MOURNING DAWN - For The Fallen 2LP
GOATPSALM - Erset La Tari CD
Orders now taken on the "release" section of this site.
Anyone already expecting either of these releases should receive them soon..... and feel free to add comments for any AD release on this site.
Esoteric - Subconscious Dissolution 2LP
Last updated: 21 January 2012
the next album in the Esoteric vinyl series is underway - Subconscious Dissolution into the Continuum
we expect the vinyl test pressings at the end of January - so more news regarding a release date soon hopefully
The Nihilistic Front
Last updated: 21 January 2012
THE NIHILISTIC FRONT are progressing well with tracks for the new album - for a completion in spring 2012.
Titled "Procession To Annihilation" - the cover art is also finished.
This new material will crush any emotion and empathy you may have remaining following their previous 3 albums - TNF are the musical manifestation of all the hatred and contempt you have for society.
TNF have commented - "What the fuck have we created!" - as the realisation dawns of the monster that is being conceived.
MOURNING DAWN - For The Fallen 2LP
Last updated: 21 January 2012
progress has been slow (and beyond my control) with the 2LP vinyl version of the excellent dark doom masterpiece - For The Fallen
i am hoping to receive the vinyls at the end of January - so any orders will leave immediately once here
includes two bonus tracks especially recorded for this limited vinyl edition - crushing cover tracks from Bethlehem and Paradise Lost
an essential vinyl edition
Goatpsalm CD artwork
Last updated: 21 January 2012
The excellent GOATPSALM album has gone to press - and should be available at the end of February.
A chaotic disturbance of raw black death industrial, steeped in demonology - this music will inspire
the darkness dwelling in your subconscious
Available to pre-order now.
rate AD releases
Last updated: 15 January 2012
It is now possible to rate and comment on any Aesthetic Death release.
If you go to the "releases" section - pick a release - then click the "reviews" tab on each release.
If you spend your money on my releases, then you deserve the opportunity to give your direct feedback.
Goatpsalm
Last updated: 7 November 2011
I am extremely pleased to be working with Russian act GOATPSALM on their forthcoming 2nd album - Erset La Tari
Bleak death industrial ambient for the fearless, a dark initiation co-existing with lo-fi noise and raw black metal visitations - an eclectic diversion of auditory dissonance and dissidence.
Features members of Karna, Sickrites, Baal Zebuth, Cyber Baphomet etc
A true underground and occult aura surrounds this act of darkness. Highly anticipated....
Saxon Barbarians
Last updated: 7 November 2011
Pernicious Enigma - the 2nd album, and to some the best, recorded back in 1997 from Saxon Barbarians - ESOTERIC
Work is ongoing with the 3-LP vinyl version of "The Pernicious Enigma" - currently the artwork is receiving a layout overhaul by Mauro Berchi, along with the album being totally re-mixed and re-mastered by Greg Chandler. Never being completely happy with the eventual sound of the original release - the vinyl version gives an opportunity to revisit and amend.
More details to follow soon...
Fatum Elisum - Homo Nihilis cd
Last updated: 30 October 2011
out now (28th October 2011) is the new album from FATUM ELISUM - Homo Nihilis
four long tracks of awesome and epic doom - since the self-titled debut Fatum Elisum have progressed and matured, and have now forged their own style of doom - albeit with a healthy reference to the early 90s sounds of Cathedral, Paradise Lost and My Dying Bride.
A thoughtful and melancholic album - with a stunning vocal display from Ende
quality recording and great artwork - highly recommended album
The Nihilistic Front
Last updated: 14 September 2011
Aesthetic Death will be working together with Australian uber-crushing extreme doom death act - THE NIHILISTIC FRONT
TNF are currently working on their fourth full length album - although this will be their first release with a label. The first TNF albums have been outstanding - and would be appreciated by people with an empathy towards the sounds reminiscent of the early days of bands like Esoteric, Disembowelment, Loss etc....
Expect awesome heavy oppressive unrelenting punishing doom........
Black Depths Grey Waves cd
Last updated: 14 September 2011
the new album from Black Depths Grey Waves is now released
consisting of an occult blackened noise ritual - a crawling immersion into the darkest reaches of your subconscious mind.
a disturbing audial experience
available on digipack cd from this site
Samples available
Last updated: 10 September 2011
To help people check out some of the bands on Aesthetic Death, some tracks from all AD releases will soon be made available to listen to directly via this site
this should be possible from mid September - with tracks listenable as play only / download / soundcloud, or a mixture thereof.
if you visit the "releases" section and click on whichever release interests you - and the listen facility will be next to the track listing
ESOTERIC - Epistemological Despondency 2LP
Last updated: 28 June 2011
the ESOTERIC "Epistemological Despondency" 2LP is now released on 27th June 2011.
It has turned out really nicely - a great finish to the gatefold sleeve, heavy duty vinyls, a heavy printed inner sheet/biography and album artwork sticker
it is worth the wait since the original recordings in 1994 - and sounds really warm and intense on vinyl - copies still available to buy directly through this website
work begins immediately on "The Pernicious Enigma" 3LP - await further news
Wreck Of the Hesperus rot forth...
Last updated: 3 June 2011
the 2nd album "Light Rotting Out" is now released - it looks and sounds simply awesome
available to buy now from this site - or contact me directly if you have any queries.
Esoteric - Epistemological 2LP
Last updated: 3 June 2011
release of the "Epistemological Despondency" 2LP is anticipated for 28th June 2011 - more news will follow
Esoteric - Epistmological 2LP - update
Last updated: 22 May 2011
Having received the 3rd set of test pressings for the "Epistemological" 2LP - we are very pleased to say the sound quality is now acceptable.
Things should now move swiftly with the pressing. The sound of this album on vinyl adds an extra dimension of oppression and warmth to this great Esoteric work.
More news regarding the release and shipping date will follow shortly. If anyone has any questions or queries please get in touch.
Walk Through Fire - debut album
Last updated: 8 May 2011
Out Now:
The debut CD - Furthest From Heaven - from awesome Swedish sludge doom act - WALK THROUGH FIRE.
Oppressive, claustrophobic dark blackened sludge. Enveloped in pain.
Taking inspiration from the shit that surrounds us in society - WALK THROUGH FIRE transpose this into a musical megalith which yearns for the demise of mankind.
MurkRat - Drudging The Mire CD - now released!
Last updated: 21 February 2011
Out NOW - and ready to order.
beautifully enchanting, yet tortuous, misanthropic dark harrowing doom
it's simply a stunning piece of dark art and atmosphere - and I urge everybody to check out Murkrat
Section 37 CD released
Last updated: 21 February 2011
OUT NOW...
eclectic dark electronic poetry
Section 37 is the musical extension of the blackened mind of a deranged poet, one that is fustrated by a savage disdain to the modern world.
"The Kudos Of Serial Killing" is gleaned from a collection of serial killer poems. Portraying the twisted reasoning of "serial killers", each piece to its own eclectic dark rhythmic electronic style of music. Coupled with sound bites and samples to prepare for a dark journey into minds of madness.
Taking elements of Skinny Puppy, Nine Inch Nails, VAC, Underworld, Roger Waters, Depeche Mode, Lustmord, FLA etc...
available to order now - £5 postpaid worldwide
Fleurety - Evoco Bestias 7
Last updated: 26 January 2011
the second release in the FLEURETY 7" vinyl series - Evoco Bestias - is now out, following a lengthy pressing delay
featuring the first new tracks from Fleurety since 1998 - undeniably Fleurety - avantgarde metal with a necro Norge sound
all pre-orders will be sent this week - expect it soon
work starts immediately on the 3rd vinyl in this series - for a release hopefully during summer 2011
Black Depths Grey Waves
Last updated: 26 January 2011
I am very pleased to announce news of a forthcoming co-operation with US act - BLACK DEPTHS GREY WAVES.
BDGW is a black occult industrial project from the sickened minds of Clint Listing (As All Die, Long Winters Stare, When Joy Becomes Sadness) and Saint Ov Gravediggers (Ordo Tyrannis, Grim Pig)
Noise-filled, black industrial, occult evocations - music that will make you feel at one with your disturbed mind.
Expect their 3rd album "Nightmare Of The Blackened Heart" during summer 2011 - this exceptional wall of noise will appeal greatly to those that have an inclination towards the grim art of MZ 412, Valefor, In Slaughter Natives, Schloss Tegal etc....
WARNING - new Wreck Of The Hesperus album
Last updated: 14 January 2011
Aesthetic Death has the public responsibility to announce that the new Wreck Of The Hesperus album "Light Rotting Out" is officially shite - steer clear of it, be warned.
if you have the misfortune to stumble across this monstrosity - then be prepared for a putrid swirling droning mass of doomy sewage and woeful retarded noise, from these degenerate Irish batty trolls.
Filth, filthier filth and utter rottt lurks amongst us!!!
released later in 2011 on A5 digipack
Esoteric - Epistemological Despondency 2LP
Last updated: 17 November 2010
the 2LP vinyl pressing is at the pressing plant - we are expecting release in the next few weeks - pre-orders can now be taken
limited to 350 hand numbered copies - great new layout by Mauro Berchi - UK£26.00 including P+P worldwide
Esoteric 2LP + Fleurety 7"
Last updated: 22 October 2010
ESOTERIC - Epistemological Despondency 2LP
FLEURETY - Evoca Bestias 7"
Both these vinyls have been sent to press - should be ready in the next few weeks. Pre-orders for both releases can be confirmed through Aesthetic Death.
Anyone already in touch with me regarding the Esoteric 2LP will receive further details soon.
The NULLL Collective cd - now out!
Last updated: 24 August 2010
The NULLL Collective - De Monstris CD - is now available.
A tale highlighting the continuous decay of the human race.
Extreme raw, soul-shattering, hateful and experimental funeral doom-death - bowel-churning grim doom, not for the fainthearted.
Features collaboration from members of Uncertainty Principle (UK), Torture Wheel (USA) & Until Death Overtakes Me (BEL).
Limited to 1000 copies - UK£7.00/Euro 8 - postpaid worldwide
Murkrat - Drudging The Mire CD
Last updated: 19 August 2010
The new Murkrat tracks are now recorded.
This 2nd album is nothing short of stunning - some of the darkest, most depressed and enchanting doom I've ever heard - emanating directly from the heart and soul.
Plenty of bands claim to be dark and depressive - but this album makes those bands seem more like Coldplay, lightweight and weak.
This music takes you to darkest voids, then strips you of your emotions - then will remind you of your pathetic insecurities.
A beautifully balanced album - it will reward you finely if you dare to enter the world of the Murkrat.
EIBON - Entering Darkness CD
Last updated: 23 June 2010
the EIBON debut cd "Entering Darkness" is now released
an awesome release, both audially and visually, in hardcover digisleeve - features 6 tracks of intense progressive dark doom.
this is simply a stunning debut album and one of the best Aesthetic Death releases to date
CD = £10.00 postpaid
orders can be made via this site - or direct via paypal
ESOTERIC vinyl series
Last updated: 14 June 2010
Finally, there is some progress regarding the vinyl project:
- each album will be released on an individual basis, starting later in 2010 with the "Epistemological Despondency" 2LP;
- each album will be limited to approx 350 copies;
- following the series of albums on individual LP - there will be a one-off box set containing all albums;
- the box set will be limited to approx 150 copies;
All future news regarding the project will be available here at:
IMPORTANT:
Any interest in the "Epistemological Despondency" 2LP can be made now via email (
aesthetic.death@virgin.net
) to confirm reservation of a copy. No money required at this stage. Expected cost is £25 postpaid.
Any orders for the "Epistemological" 2LP will receive priority on the next vinyl in the series.
It will be possible to register an interest in the box set version at a later date - anyone buying all individual albums will receive first priority on the box set version.
Any questions or queries regarding the vinyl series should be directed to:
ESOTERIC LP vinyl series
Last updated: 28 April 2010
the ESOTERIC LP series will finally get underway later this year.
each individual album will be released separately in a limited quantity - followed by an ultra limited box set of every album.
further information and details of how to register an interest in any, or all, of these LPs will follow on this website soon - if you want to get hold of these vinyls the only certain way of doing so is via this website
FLEURETY - Evoco Bestias 7
Last updated: 28 April 2010
Released this year will be the latest material from FLEURETY
FLEURETY - Evoco Bestias 7" 2010
This is the first brand new material from FLEURETY since 2000 - and features the unmistakeable FLEURETY sound from Norway's most handsome rock-stars!!
The material has been mastered by Greg Chandler and will be ready for release later this year.
Eibon + Fatum Elisum gig
Last updated: 28 April 2010
there will be an Aesthetic Death night in northern France on 28th May 2010
EIBON + FATUM ELISUM join forces to play live together in Rouen, France (approx 1hr north of Paris)
Expect a night of dark doom death - get there if you can.
This gig should co-incide with the release of the awesome full EIBON cd "Entering Darkness"
Den Saakaldte "Ol, Morke og Depresjon" 2LP
Last updated: 26 April 2010
Den Saakaldte 2LP finally completed - and looking AWESOME. All pre-orders already mailed.
The Nulll Collective
Last updated: 9 April 2010
Aesthetic Death is proud to announce a forthcoming co-operation with THE NULLL COLLECTIVE
later this summer 2010 will see the release of "De Monstris" - their first full CD release - THE NULLL COLLECTIVE features members who have worked with UNTIL DEATH OVERTAKES ME, WRAITH OF THE ROPES, TORTURE WHEEL, WIJLEN WIJ, BEYOND BLACK VOID etc....
awesome oppressive ambient funeral doom - more info can be found at www.nulll-void.com
EIBON - Entering Darkness CD 2010
Last updated: 21 March 2010
the new CD from French sludge doom act EIBON has just finished recording - this is a real progression from their MCD released 18 months ago - 6 tracks of the highest quality post-sludge-doom - initial listenings of the recording sessions suggest this is an essential DOOM classic in the making....
Keep checking for progress - release date is hoped to be May 2010
Den Saakaldte - Ol Morke digi CD + 2LP
Last updated: 21 March 2010
the Den Saakaldte "Ol Morke" digi CD is now out and look awesome - you can buy a copy via this website or through the band
the 2LP version has experienced pressing delays - but should be ready in the next few days - any pre-orders will ship as soon as I receive them
first 100 orders come with the ultra limited bottle opener
Lysergene / Dust To Dearth - "Death Of The Sun" split CD
Last updated: 21 March 2010
the split CD from LYSERGENE + DUST TO DEARTH has been released and features 8 tracks of dark harrowing ambience - featuring members of Murkrat + Esoteric
Aesthetic Death Website Launch
Last updated: 21 March 2010
Welcome to the new Aesthetic Death web site - the purpose of the website is primarily to offer information about the many great bands I work with - let me know what you think of it, or if you have any queries
cheers,

Stu